IRVINE, Calif. — The Ford F-150 took the top spot in an all-new full-size pickup comparison test, "First to Worst: Kbb.com Ranks Five Full-Size Pickups," by the expert editors from Kelley Blue Book's www.kbb.com, the leading provider of new car and used car information.
The kbb.com editors lauded the F-150 not only because it was outstanding in all areas, but because it offered a well-rounded,
thoroughly developed package that does everything to a high standard, saying, "If you can't find something here to suit your fancy, you need to look again." In addition to winning high marks in driving dynamics due to its enhanced level of ride and handling, the F-150 earned praise from the kbb.com editors for both its exterior and interior styling, noting that it strikes "a nice blend of the style and function that should define a pickup." The F-150 also scored well because it is the only pickup in the segment to offer Roll Stability Control™ and AdvanceTrac® electronic stability control on the standard model.
 
For years, the best-selling vehicles in America were full-size pickup trucks, led by the Ford F-150. Even now, with fuel costs pinching family finances, pickups are still very popular, and not just with those buyers who need utility for work. Much of pickups' appeal with buyers is based as much on image as function, yet they continue to roll off the assembly lines, onto showroom floors and into driveways. As such, the kbb.com editors took a look at five popular full-size pickups, excluding the various "Heavy Duty" or "Super Duty" models (which are really intended for harder work and heavier loads), put them through a comprehensive comparison test and ultimately ranked them from "first to worst."
Full-size Pickup Truck Comparison: The Winner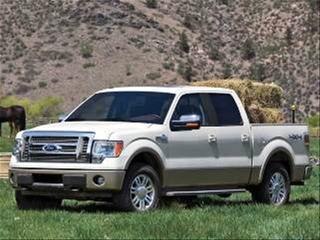 Posted 6/22/2010 8:08 PM — KBB.com
The Winner: 2010 Ford F-150 
Strengths: Strong and refined in every aspect, excellent towing and hauling
Shortcomings: Rides and handles well, just not as well as the Ram
Synopsis: The best all-around pickup available today
It was only by the barest of margins, but the Ford F-150 came out on top in this tough group. It did that not by being outstanding in all areas but by offering a well-rounded, thoroughly developed package that does everything to a high standard.
It is available in all the expected configurations, of Regular Cab, SuperCab and full four-door SuperCrew, and there are three engine choices: A 4.6-liter, two-valve-per-cylinder V8 of 248 horsepower; a 4.6-liter three-valve V8 of 292 horsepower and a 5.4-liter three-valve V8 of 310 horsepower and 365 pound-feet of torque (320 and 390, respectively, with E85).
There is no six-cylinder engine available and the F-150′s strongest V8 is less powerful than the biggest V8s of all the other competitors, yet in no way does it seem to lack for get-up-and-go. In addition, the F-150 is available in a host of trim levels, for practically any need or preference, from the base model XL, through a variety of trim and luxury upgrades, to the westernized Lariat and King Ranch versions, the high-end Platinum, the high-performance Raptor and the stylized Harley-Davidson model. If you can't find something here to suit your fancy, you need to look again.
Like many of the others, the F-150 is built on a fully boxed frame and has been for some time. The F-150 frame also has fully boxed crossmembers which mount through and are welded to both the insides and outsides of the side rails. Ford was also one of the earliest truck manufacturers to place the rear shock absorbers outside the frame rails, rather than inside, so they are closer to the rear wheels and thus offer superior control of the axle; this is a little detail that contributes to an enhanced level of ride and handling, and the F-150 scored high in driving dynamics.
The F-150 won high marks for its exterior styling, which has a family resemblance to the bigger Super Duty Ford pickups and seems to strike a nice blend of the style and function that should define a pickup. It also received high ratings for its interior design and function. In all, the F-150 was nice to look at on the outside, nice to look at on the inside and pleasant to drive.
The SuperCrew has a fully-flat rear floor, the tailgate has a built-in rear step with grab handle to make it easier to climb into the cargo box and there are available cargo-box side steps to make it easier to load from the side. AdvanceTrac electronic stability control, with Roll Stability Control, is standard – the F-150 is the only one in the segment with standard Roll Stability Control – there is standard trailer sway control and an available, factory-installed trailer brake controller. The F-150 is a complete package of a pickup.
Ford F-150 Test Rankings (Overall Editors' Rating: 83.9)
Editors' Recommendation: 1st
Exterior: 1st
Interior: 1st
Driving Dynamics: 2nd
Value: 3rd
Safety: 3rd
Crash Test Ratings: 1st
Post Footer automatically generated by Add Post Footer Plugin for wordpress.